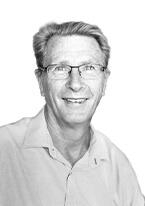 GREIG HERRON B.Comm Acc & Financial Management
The lure of Jervis Bay and surrounds along with the opportunity to own & continue a flourishing accounting practice, established many years prior, were the impetus for the decision to establish Bayside Accounting in 1990.
Following completing my Bachelor of Commerce in Accounting & Financial Management in 1975 I worked with a major accounting firm in Sydney. I owned and operated other business interest and continued to work with my own clients and other accounting firms in Nowra preparing tax retums.
My background in accounting commencing prior to computerized returns required hand written returns and ledgers where the emphasis was to get it right, first time. This attitude of competency still applies today.
I am personally satisfied on the completion of a job when we are able to partner with our clients to discuss the data we gather and turn into meaningful trading, profit & loss and balance sheet statements which reflect the trends and performance of their business.
I would like to recognise the talents, efficiency and efforts of my long term current team members along with those special ladies in the past who have established our practice as a premier firm in the area. There rarely is a client that one of us doesn't have instant recognition and recall of their situation and needs. We pride ourselves on being a people business foremost. When I'm not in the office you will usually find me at the beach and spending time with my lovely wife Lindy, children and grand children.